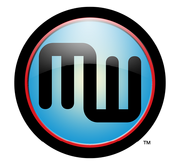 MakerWare is MakerBot Industries' host software for the Replicator 1 and Replicator 2 3D printers with support for the Thing-o-Matic "coming soon." It replaces the no longer maintained and officially depricated ReplicatorG host software. The software is considered a Beta version as of 2.0.1 (March 2013).
Primary Interface
[
]
The MakerWare interface is that of a simple STL/OBJ positioning tool, used to move, rotate, scale, and otherwise transform imported models. It also connects to either Skeinforge or MakerBot Slicer to perform the toolpathing required to produce machine code out of objects, and can save a ".Thing " file.
Additonal features include ability to upload new firmware images to machines, view and set EEPROM values in onboard memory, stop and start the Conveyor service, edit slicing profiles used with MakerBotSlicer and Skeinforge , and provide users with an artistic take on the skyline as seen from MakerBot HQ.
Sub-technologies
[
]
The program called MakerWare is one part of a bundle of tools MakerBot distributes as the "makerware bundle of awesome," and includes the following:
MakerWare UI, the application responsible for the 3D view and user interface

MakerbotSlicer

(formerly known as "Miracle Grue"), mesh-slicing and toolpathing software

Skeinforge

, an older and well known mesh slicer known for its slow processing times but good details
Conveyor , a persistent python service that handles connections between the above mentioned software and the printer, making use of the S3G libraries to communicate with the MakerBot printers
Of these sub-processes, all but the MakerWare UI itself are currently open source software, and can be found on MakerBot's github account .