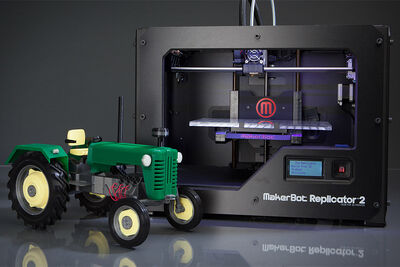 The 4th Generation 3D printer from Makerbot. This printer introduces many advancements to Makerbot models including a steel frame, improved extruder design, and optimization for PLA filament.
The Replicator 2 was released in late 2012, marking a departure for MakerBot Industries from open-source to proprietary product offerings. Initial reception and anticipation for the Replicator 2 was very high among seasoned and new users alike. The new design is user friendly and is advertised to require very little technical knowledge to begin 3D printing. The Replicator 2 is a single head printer, using PLA filament -- a bio-based plastic -- to create prints.
Some minor design weaknesses have marred the launch of this printer, but the majority of these issues can be fixed with some simple modifications.
Printer Help and Reference
[
edit
|
edit source
]
OEM Parts List (create page)
PHYSICAL DIMENSIONS
Without Spool: 19.1 x 12.8 x 14.7 in  [49 x 32 x 38 cm]
With Spool: 19.1 x 16.5 x 14.7 in  [49 x 42 x 38 cm]
Shipping Box: 23 x 21.5 x 17 in [59 x 55 x 43 cm]
Weight: 25.4 lbs  [11.5 kg]
Shipping Weight: 37.0 lbs  [16.8 kg]

TEMPERATURE
Ambient Operation Temperature: 15°—32° C [60°—90° F]
Storage Temperature: 0°—32° C [32°—90° F]

ELECTRICAL
AC Input: 100—240V, ~2 amps,50—60 Hz
Power Requirements: 24V DC @ 6.25 amps
Connectivity: USB, SDcard [included]

MECHANICAL
Chassis: Powder coated steel
Body: PVC Panels
Build Platform: Acrylic
XYZ Bearings: Wear-resistant, oil-infused bronze
Stepper Motors: 1.8° step angle with 1/16 micro-stepping

PRINTING
Print Technology: Fused Filament Fabrication
Build Volume: 11.2 L x 6.0 W x 6.1 H in [28.5 x 15.3 x 15.5 cm]
Layer Resolution Settings:

High: 100 microns [0.0039 in]
Medium: 270 microns [0.0106 in]
Low: 340 microns [0.0133 in]

Positioning Precision:
XY: 11 microns [0.0004 in];
Z: 2.5 microns [0.0001 in]

Filament Diameter: 1.75 mm [0.069 in]
Nozzle Diameter:0.4 mm [0.015 in]

SOFTWARE
Software Bundle: MakerWare™ Bundle 1.0.2
File Types: .stl, .obj, .thing

Supported OSs: 
Windows (XP/7),
Ubuntu Linux (10.04+),
Mac OS X (10.6+)
Community content is available under
CC-BY-SA
unless otherwise noted.